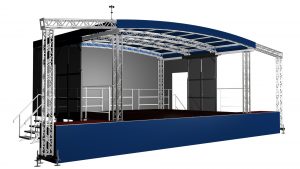 Our outdoor stage is 7.5m in length (12m including the PA wings), 6m deep and 5.1m in height. A full 50 square metres stands 1m to 1.3m above the ground. The stage platform is none-slip ply as an added safety feature. The outdoor stage is ideal for a whole host of small to medium size outdoor events and festivals including, Small to medium sized Outdoor Festivals, Village fetes and Galas, Beer and food festivals, Album/Single launch events, Christmas Lights switch-ons, Pub festivals and Car/Bike shows, Trophy Parades and Home-coming events, Corporate and sports events, New Years Eve events, Weddings and Garden Parties, etc.
PACKAGE 1
Stage
Small Sound System inc mic
(vocal PA/music – crowd up to 300)
Stage monitors package
Microphone Package
Stage lighting
Sound engineer
Stage manager
Delivery and build

from £2500 per day
PACKAGE 2
Stage
Large sound system to suit
(bands/vocal PA – crowd size 1000+)
Stage monitors package
Microphone Package
Stage lighting with effects
Sound engineer
Stage manager
Delivery and build

from £3500 per day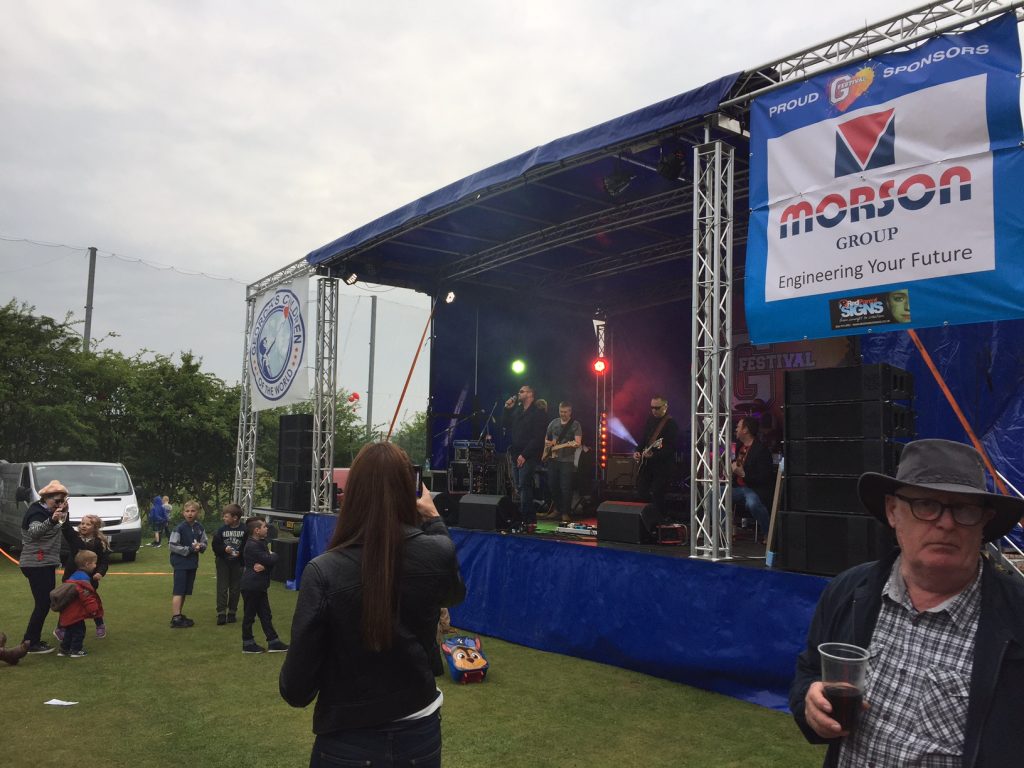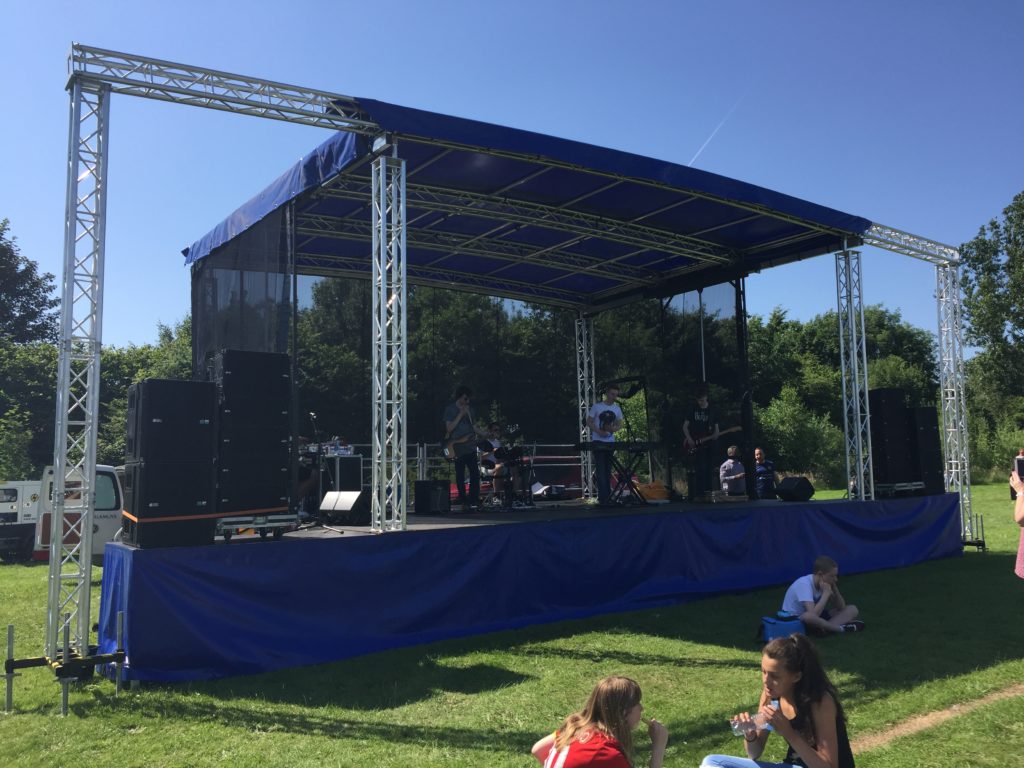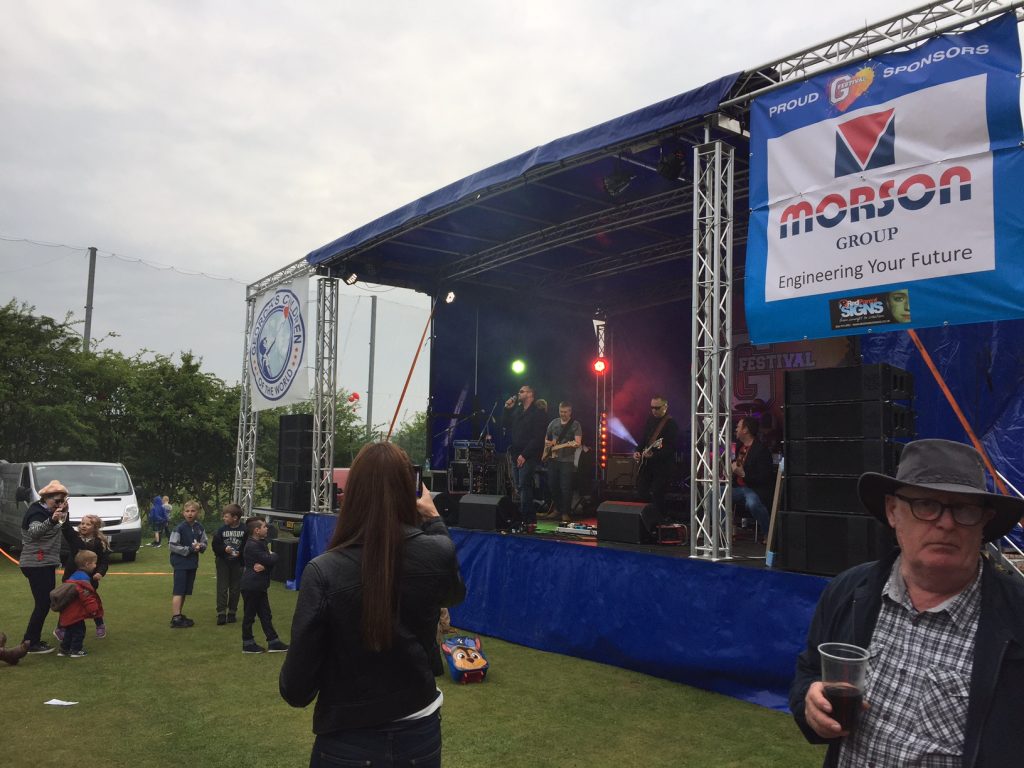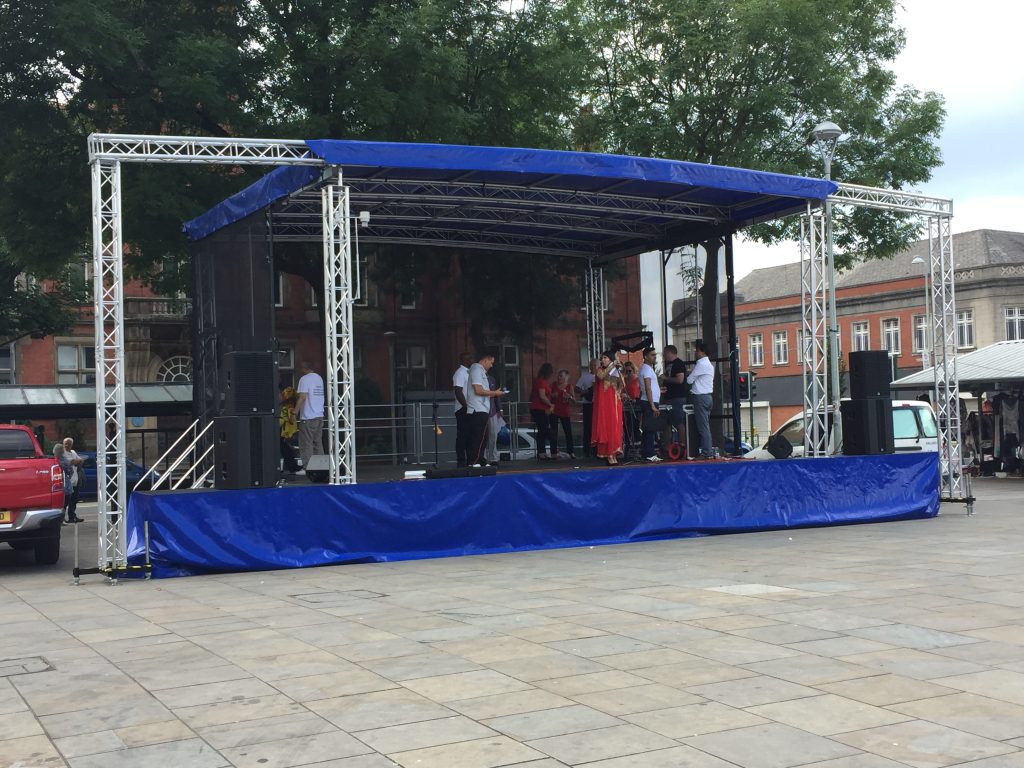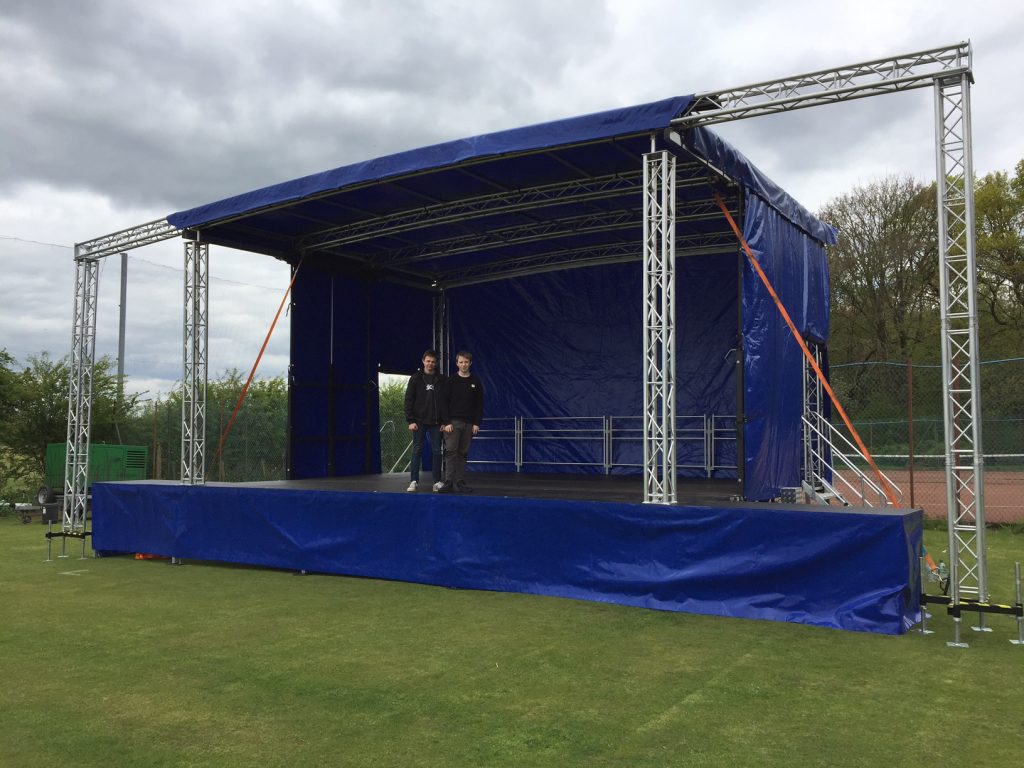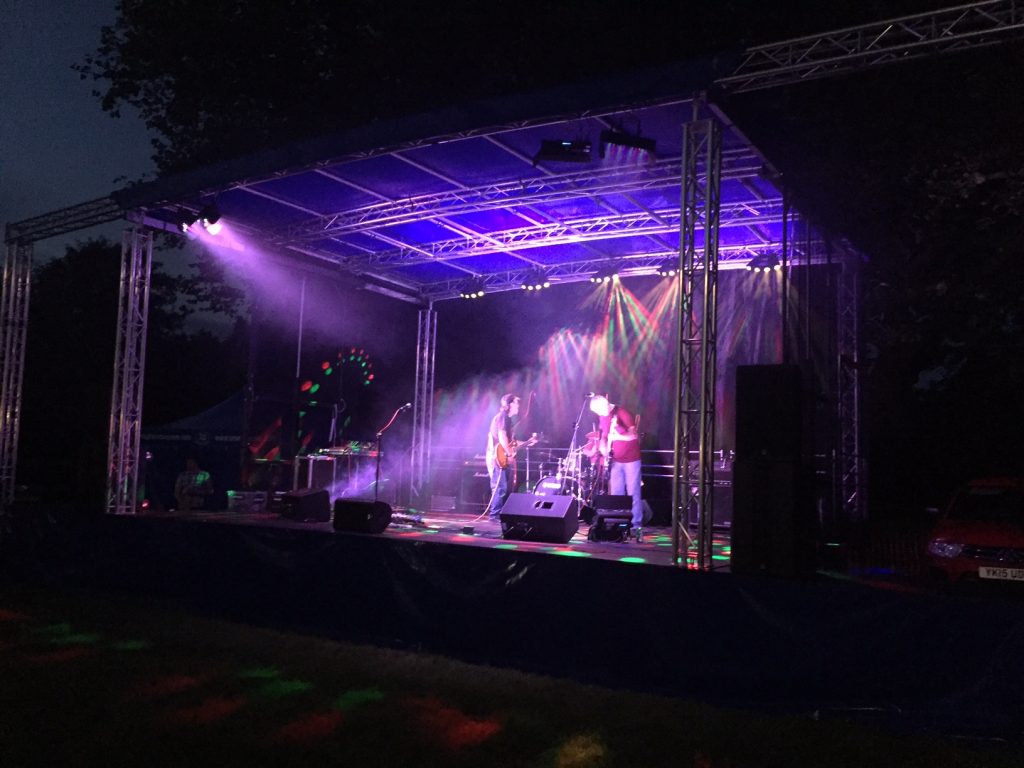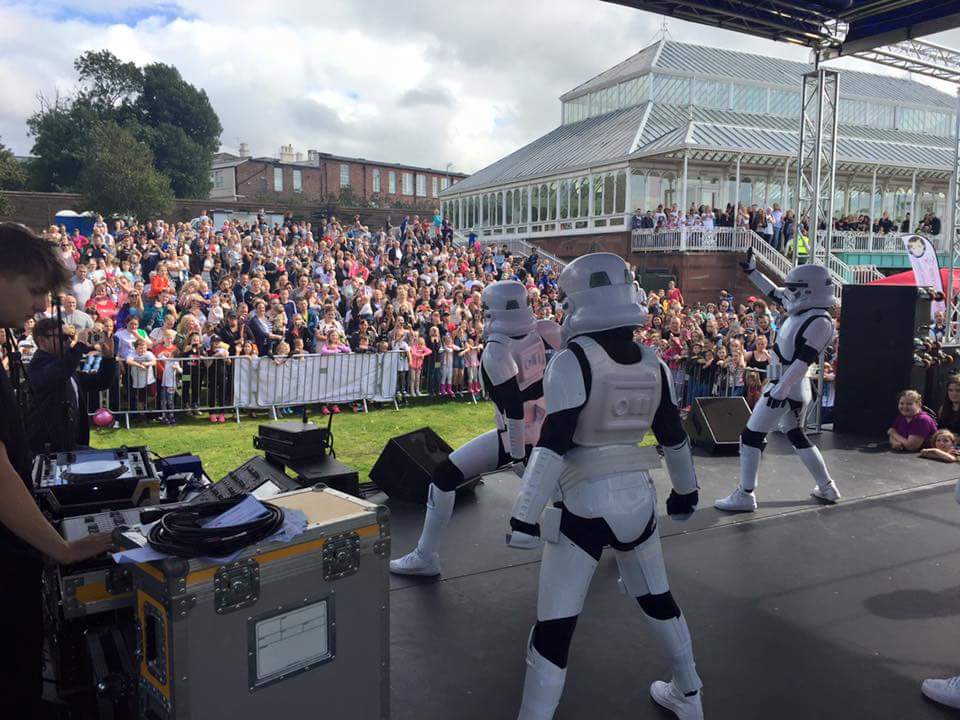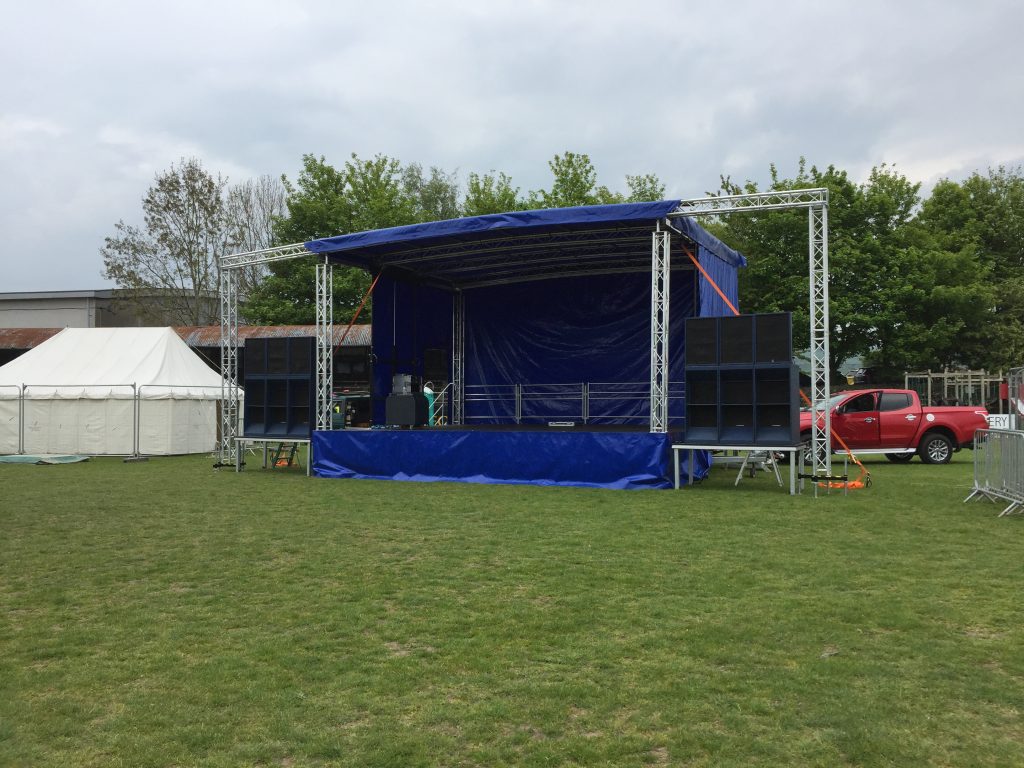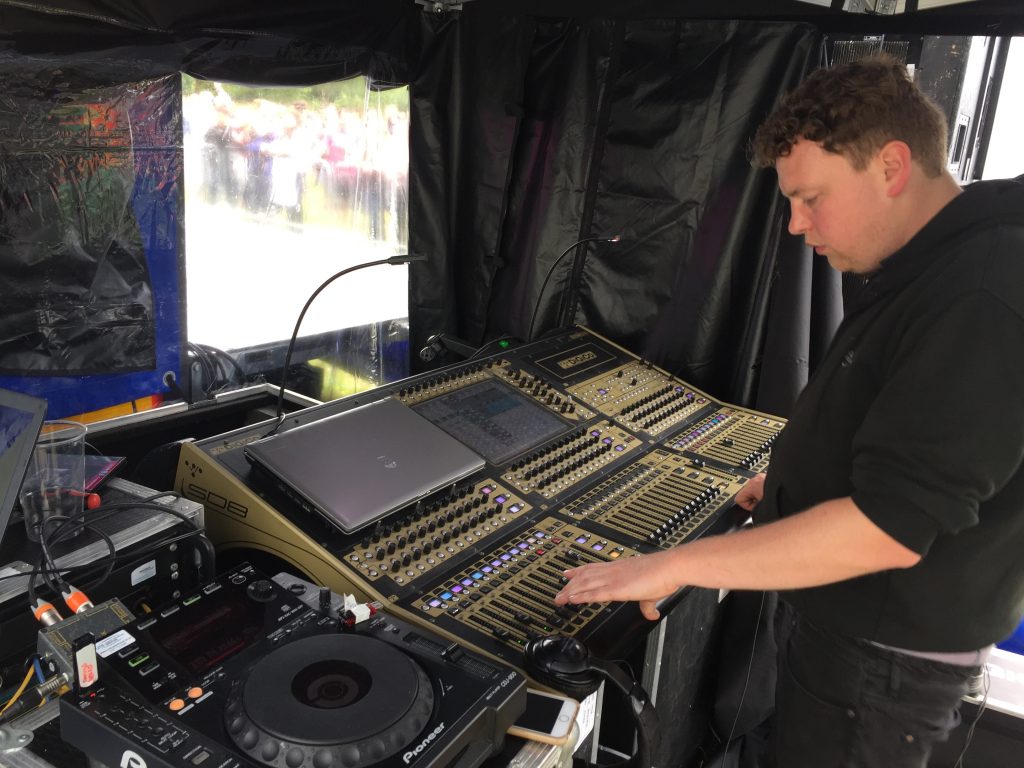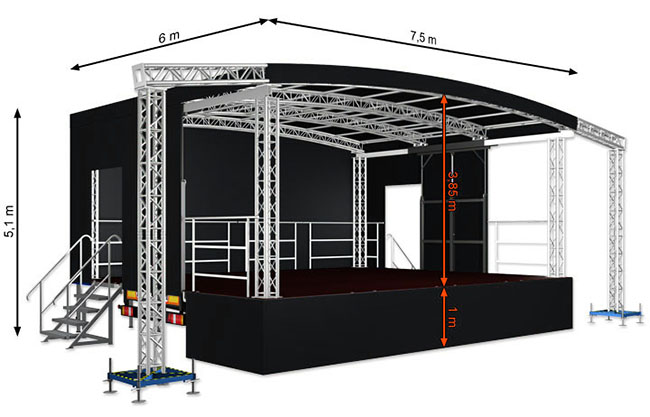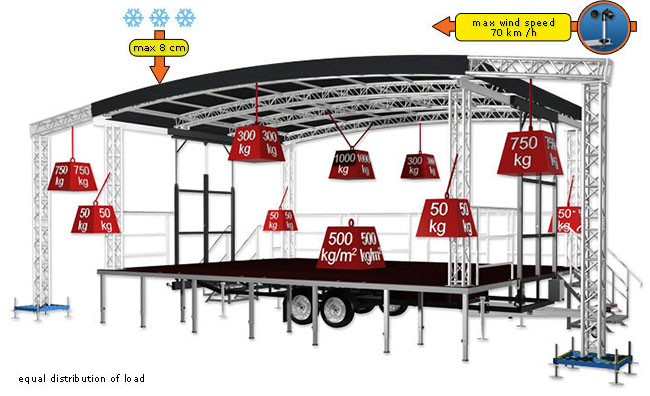 If the weather turns bad, the curved roof covers the whole staging area to keep the rain off. The stage erects quickly, usually in just a few hours is taken down even quicker. We are based in Manchester but cover the whole of the UK. Delivery is charged please call for prices. Here are two simple packages and prices for the Outdoor Stage Hire. But every package will be custom-build to best suit your individual needs. Prices are plus VAT and shown as per 1/day hire.
Outdoor Stage Hire
Also available… Runway, Disabled Access Ramp, Drum Riser, DJ Console (LiteConsole XPRS), Stage Branding, plus more.[/vc_column_text][vc_column_text]The technical details on the stage includes sizes,  weight loads on various parts of the stage. Any further questions please get back to me.
  Technical spec
  Roof system
Profiled (Curved)
  Dimensions as a stage
7.5m x 6m x 5.1m
  Dimensions as a trailer
8.9m x 2.46m x 3.6m
  Way of lifting the roof
electric-hydraulic
  Net weight included all parts
2400 kg
  Permitted total weight
2500 kg
  Stage area
50 m2
  Height of stage floor
1,0 – 1,3 m
  Stage floor
slip proof, weather proof
  Roof capacity
300 kg – to the front and back part of the roof*
1000 kg – to the middle part of the roof*
  Floor capacity
500 kg/m2
  Quadrosystem pillars load capacity
50 kg
  Max. wind speed
70 km/h
  Max. tickness of snow on the roof
8 cm
  Canopy
PCV certified material (flame resistant)
  Scrim
Type A203 (flame resistant)
  Installation time
2 hours with 2 crew or 1 hour with 5 crew
DJ Gear Hire Limited
Call Phil Brookes on 0161 950 2823 to discuss your Outdoor Stage Hire in more detail.
Outdoor Stage Hire, Festival Stage Hire, Mobile Sage Hire in Manchester, in Cheshire, in Lancashire, in Merseyside, in Derbyshire, in North Wales and across the North of England.