Equinox Truss
DJ Booth
The Equinox Truss DJ Booth is a lightweight, compact and collapsible Truss DJ Booth with a sturdy shelf to sit your CDJs and a mixer. It adds the professional touch to your party or event as well as offering protection to your kit.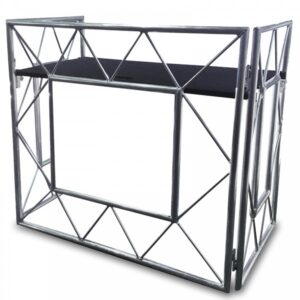 The design makes it very easy to assemble and it takes one person just a matter of minutes to put together. The innovative folding frame allows the Equinox Truss DJ Booth to flat pack into its own carrying case.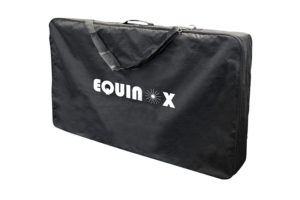 Equinox Truss DJ Booth – Spec
Here's all the spec. If you are collecting your hire, please check the sizes of the folded-down frame as it may not fit into some cars.
If you need any further info, please get in touch.
Equinox Truss DJ Booth – Spec
115 x 128 x 63cm (set-up)
115 x 121 x 59cm (internal)
Shelf height: 88cm
Shelf max. load: 25kg evenly distributed
Frame weight: 10.9kg
Shelf weight: 4.6kg
System weight: 18.5kg
Cased dimensions (folded-down)
Height approx. 80cm
Length approx. 135cm
Width approx. 8cm