Wireless LED Up Lighters
Creating the mood
Wireless up lighting hire for Manchester, Cheshire and throughout the North West. Question number one when looking for an up lighter provider should be "are they wireless?" Cables running around the edges of the room is not a good look. The wireless up lighters are supplied with fully charged long-life lithium batteries that give each unit up to 10 hours continuous use. The up lighters are controlled by wireless DMX, so no need to run cables across the floor.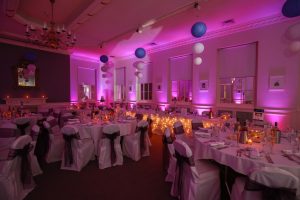 Up-lighting for weddings, birthday parties and special events creating the perfect atmosphere for your special day. The up lighters quickly and easily transform a room or event space into something really magical. Pillars of vibrant coloured lighting is a simple and effective way of creating a breath-taking effect.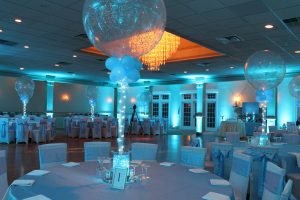 Colours can be co-ordinated with the colour or the theme of your event to create that special mood. The up lighters can also be programmed to scroll through a sequence of colours gently changing the ambience of the room every few minutes.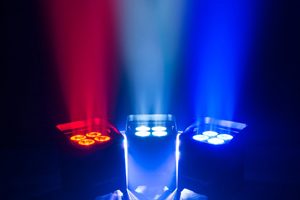 The wireless LED uplighters are safe, they run at a cool temperature and because they have an internal battery with wireless DMX control there are no cables running across the room to trip over.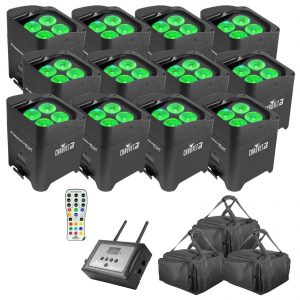 All our wireless up lighting packages are supplied with a controller to select your colour or run a sequences of colours. Package with 4, 6, 8 and 12 up lighters are list on our prices page.
We also have up lighting packages that are IP rated and are suitable for outdoor use, even in wet weather. Please call to discuss your up lighting requirement with our team and let us help put your ideas into reality.